Sunday, December 6, 2020
3:00 pm / Logan House

General Admission $25.00
BIOGRAPHY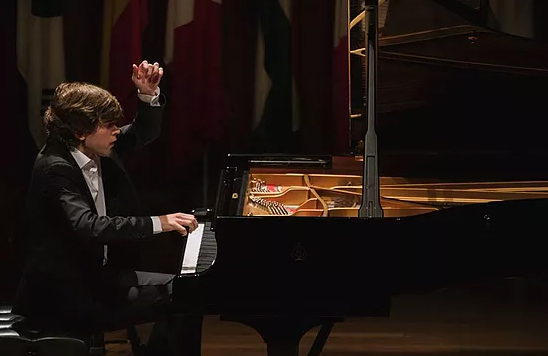 First Prize, 2019 Young Concert Artists International Auditions
First Prize, 2017 Walter W. Naumburg Piano Competition
Paul A. Fish Memorial Prize
Friends of Music Concert Prize
Alexander Kasza-Kasser Concert Prize
Krannert Center for the Performing Arts Prize
Sunday Musicale Prize

MONTREAL GAZETTE:
"Cano Smit established himself as an artist to watch."
BACKTRACK:
"What poetry! Each voice is subtly defined, each nuance delivered with care."
LA SCENA MUSICALE, MONTREAL:
"His performance had a true storytelling quality."
REVISTA MUSICAL CATALAN:
"We were amazed by the brilliance, precision, and interpretative maturity of this young musician."

Spanish/Dutch pianist Albert Cano Smit won First Prize at the 2019 Young Concert Artists International Auditions, as well as The Paul A. Fish Memorial Prize, the Alexander Kasza-Kasser Concert Prize for support of his Kennedy Center debut, the Friends of Music Concert Prize (NY), the Krannert Center for the Performing Arts Prize, and the Sunday Musicale Prize (NJ). He also won First Prize at the 2017 Walter W. Naumburg Piano Competition, which presented him in recital at Carnegie's Weill Recital Hall.
This season, Mr. Cano Smit performs the Brahms Concerto No. 2 with the Las Vegas Philharmonic conducted by Donato Cabrera. He has also appeared with the San Diego Symphony, Montreal Symphony, Boca del Río Philharmonic, Barcelona Symphony, Manchester Camerata, Nottingham Youth Orchestra, and American Youth Symphony.
Albert Cano Smit has given solo recitals at the Herbst Theatre in San Francisco, and for the Steinway Society The Bay Area in San Jose, New York's Salon de Virtuosi, and Bravo! Vail Festival, and has been in residency at the Tippet Rise Art Center. He has given recitals abroad in Xiamen, China, in France at the Wissembourg Festival and Fondation Louis Vuitton in Paris, at Germany's Rheingau Music Festival, and throughout Spain. Mr. Cano Smit tours with violinist William Hagen in venues throughout the U.S. and in Germany, and with flutist Anthony Trionfo he has performed in New York at Merkin Concert Hall and the Morgan Library & Museum, and at the Kennedy Center Terrace Theater in Washington, DC.
Mr. Cano Smit currently studies with Robert McDonald at The Juilliard School. Previous teachers include Ory Shihor, Graham Caskie and Marta Karbownicka. He has benefited from extensive artistic advice by YCA alumni Richard Goode and Jean-Yves Thibaudet, with whom he gave four-hand performances at Zipper Hall in Los Angeles and Wallis Annenberg Center Hall in Beverly Hills. Mr. Cano Smit is an alumnus of the Verbier Festival Academy.
Albert Cano Smit is represented by Young Concert Artists, Inc.
Watch a Message from Albert Cano Smit
Young Concert Artists' "Songs of Comfort" Series