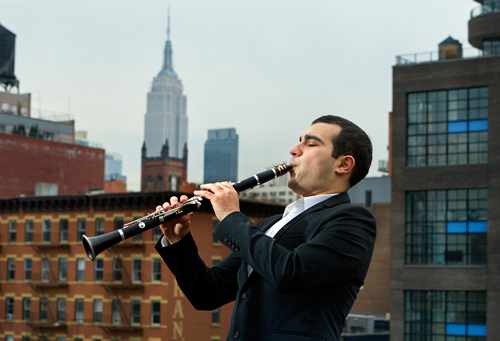 2017 Leon Russianoff Memorial Award
First Prize, 2010 Young Concert Artists International Auditions
Rhoda Walker Teagle Concert Prize
Brownville Concert Series Prize
Leona Green Award for Winds
The Embassy Series Prize
Meridian Symphony Prize
Usedom Music Festival Prize

THE WASHINGTON POST:
"Arutyunian's playing reaches passionate depths with seemingly effortless technical prowess, beguiling sensitivity and an energetic stage presence. [His] deepest notes were at once vibrant and enveloping. His highest range had the clarity of a vibrant coloratura."

THE BOSTON MUSICAL INTELLIGENCER:
"A challenge of any clarinet recital is to transcend the familiar sound of the instrument…Narek Arutyunian presented a wealth of colors, voices, articulations. We heard dazzling technique in the service of coherent and considered chamber music."
CLASSICAL (96.3 FM):
"His performance stopped time."
THE AUSTRALIAN:
"Arutyunian impressed with his crystalline articulation and expressive warmth."

Clarinetist Narek Arutyunian is an artist who "reaches passionate depths with seemingly effortless technical prowess and beguiling sensitivity" (The Washington Post). As soloist with orchestra, his performances include the Copland Clarinet Concerto with the Orchestra of St. Luke's at Alice Tully Hall, Artie Shaw's Concerto for Clarinet with The Boston Pops, the Mozart Concerto with Oregon's Newport Symphony and New York's St. Thomas Orchestra, appearances with Prague Radio Symphony, the Kaliningrad Philharmonic, the Moscow Virtuosi Chamber Orchestra and the Moscow State Symphony Orchestra, and a recording of the Weber Concertino for clarinet with the New Russia State Symphony Orchestra.
As First Prize Winner of the Young Concert Artists International Auditions, Mr. Arutyunian was presented in debut recitals in New York at Merkin Concert Hall and in Washington, DC at the Kennedy Center to rave reviews. He has also been engaged to perform at Carnegie's Weill Recital and the Morgan Library and Museum in New York, Boston's Isabella Stewart Gardner Museum, the Washington Center for the Performing Arts, the Lied Center of Kansas, the Buffalo Chamber Music Society, the Artist Series Concerts of Sarasota, the Weis Center for the Performing Arts, the Westport Arts Center, the Macomb Center for the Performing Arts, the Paramount Theater (VT), Chamber On The Mountain in Ojai, CA, Tri-County Concerts Association in Wayne, PA, St. John Armenian Church of Michigan, Arizona Friends of Chamber Music in Tucson, the Aaron Copland School of Music/Queens College, and Iowa State, Pepperdine, Southern Adventist and Missouri State Universities. In addition to solo recitals, he consistently receives acclaim for his educational outreach programs in New York City public schools and around the country.
Mr. Arutyunian has performed extensively in Australia, Asia and in Europe, including at the Musée du Louvre in Paris and the Palazzo del Principe in Genoa. Festival appearances include return engagements at the Marlboro Music Festival and at Juilliard's ChamberFest, where he performed Osvaldo Golijov's The Dreams and Prayer, the New York Festival of Song, Methow Valley Chamber Music Festival in Washington, Krzyzowa Music Festival in Poland, Germany's Usedomer Musikfestival, Musica Viva's Huntington Estate and Sydney festivals in Australia, and Young Concert Artists Festivals in Tokyo and Beijing.
Born in Armenia, Narek Arutyunian's family moved to Moscow when he was three. As a teenager, he won First Prizes in the International Young Musicians Competition in Prague and the Musical Youth of the Planet Competition in Moscow. He graduated from the Moscow State Tchaikovsky Conservatory as a student of Evgeny Petrov, received a Bachelor's degree from The Juilliard School, where he worked with Charles Neidich, and continued his studies with Mr. Neidich at the Manhattan School of Music on a Leon Russianoff Memorial Scholarship, where he received a Master's Degree in 2018. He receives career support from the Guzik Foundation in California. Mr. Arutyunian's clarinet is a personal gift from the conductor and violinist Vladimir Spivakov.
Narek Arutyunian is represented by Young Concert Artists, Inc.