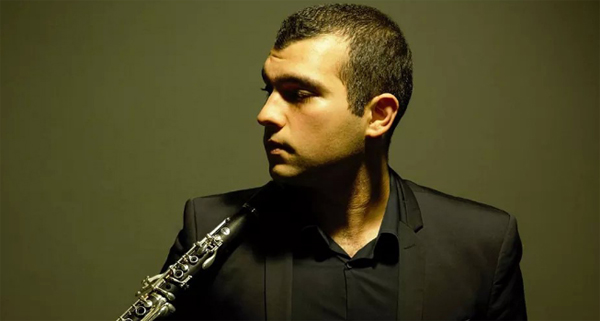 2017 Leon Russianoff Memorial Award
First Prize, 2010 Young Concert Artists International Auditions
Rhoda Walker Teagle Concert Prize
Brownville Concert Series Prize
Leona Green Award for Winds
The Embassy Series Prize
Meridian Symphony Prize
Usedom Music Festival Prize

THE WASHINGTON POST:
"Arutyunian's playing reaches passionate depths with seemingly effortless technical prowess, beguiling sensitivity and an energetic stage presence. [His] deepest notes were at once vibrant and enveloping. His highest range had the clarity of a vibrant coloratura."

THE BOSTON MUSICAL INTELLIGENCER:
"A challenge of any clarinet recital is to transcend the familiar sound of the instrument…Narek Arutyunian presented a wealth of colors, voices, articulations. We heard dazzling technique in the service of coherent and considered chamber music."
CLASSICAL (96.3 FM):
"His performance stopped time."
THE AUSTRALIAN:
"Arutyunian impressed with his crystalline articulation and expressive warmth."

Clarinetist Narek Arutyunian is an artist who "reaches passionate depths with seemingly effortless technical prowess and beguiling sensitivity" (The Washington Post). As soloist with orchestra, his performances include the Copland Clarinet Concerto with the Orchestra of St. Luke's at Alice Tully Hall, Artie Shaw's Concerto for Clarinet with The Boston Pops, the Mozart Concerto with Oregon's Newport Symphony and New York's St. Thomas Orchestra, appearances with Prague Radio Symphony, the Kaliningrad Philharmonic, the Moscow Virtuosi Chamber Orchestra and the Moscow State Symphony Orchestra, and a recording of the Weber Concertino for clarinet with the New Russia State Symphony Orchestra.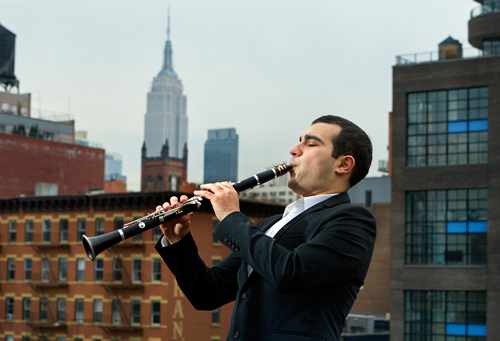 As First Prize Winner of the Young Concert Artists International Auditions, Mr. Arutyunian was presented in debut recitals in New York at Merkin Concert Hall and in Washington, DC at the Kennedy Center to rave reviews. He has also been engaged to perform at Carnegie's Weill Recital and the Morgan Library and Museum in New York, Boston's Isabella Stewart Gardner Museum, and for the Washington Center for the Performing Arts, Lied Center of Kansas, Buffalo Chamber Music Society, Artist Series Concerts of Sarasota, Weis Center for the Performing Arts, Westport Arts Center, Macomb Center for the Performing Arts, Paramount Theater (VT), Chamber On The Mountain in Ojai, CA, Tri-County Concerts Association (PA), St. John Armenian Church of Michigan, Arizona Friends of Chamber Music, Aaron Copland School of Music/Queens College, and Iowa State, Pepperdine, Southern Adventist and Missouri State Universities. In addition to solo recitals, he consistently receives acclaim for his educational outreach programs in New York City public schools and around the country.
Mr. Arutyunian has performed extensively in Australia, Asia and in Europe, including at the Musée du Louvre in Paris and the Palazzo del Principe in Genoa. Festival appearances include a recent last-minute engagement at the Tanglewood Festival, return engagements at the Marlboro Music Festival and at Juilliard's ChamberFest, where he performed Osvaldo Golijov's The Dreams and Prayer, the New York Festival of Song, Krzyzowa Music Festival in Poland, Germany's Usedomer Musikfestival, Musica Viva's Huntington Estate and Sydney festivals in Australia, and Young Concert Artists Festivals in Tokyo and Beijing.
Born in Armenia, Narek Arutyunian's family moved to Moscow when he was three. As a teenager, he won First Prizes in the International Young Musicians Competition in Prague and the Musical Youth of the Planet Competition in Moscow. He graduated from the Moscow State Tchaikovsky Conservatory as a student of Evgeny Petrov, received a Bachelor's degree from The Juilliard School, where he worked with Charles Neidich, and then earned a Master's Degree with Mr. Neidich at the Manhattan School of Music on a Leon Russianoff Memorial Scholarship.
Narek Arutyunian is represented by Young Concert Artists, Inc.

Praised by the Dallas Morning News for his "rhetorical grandeur, romantic warmth, and surefire technique", Christopher Goodpasture has established himself as a musician of refined style. The Toronto Concert Review described his playing as a "rare combination of strength, energy and sublime musical sensitivity...matched by a heavenly sense of melodic line". As a recitalist, his approach to programming reflects an inclination towards unusual repertoire and narrative that is both unconventional and provocative. He has performed solo recitals in concert venues throughout North America, including the Kennedy Center (Washington D.C.), Benaroya Hall (Seattle), Koerner Hall (Toronto), Alice Tully Hall, Merkin Hall, Weill Recital Hall (New York), Bing Concert Hall (San Francisco), and the Los Angeles County Museum of Art.
Recent and upcoming orchestral appearances include concertos with the Dallas Chamber Symphony, Sioux City Symphony, The Oakville Symphony, Northumberland Orchestra, Riverside Symphonia, Acadiana Symphony Orchestra, and the Chamber Orchestra of New York. Among his forthcoming projects is a CD to be recorded on KNS Classical Records, as well as solo recitals on the Dame Myra Hess Series in Chicago and as a Eurasia Festival Emerging Artist in New York City.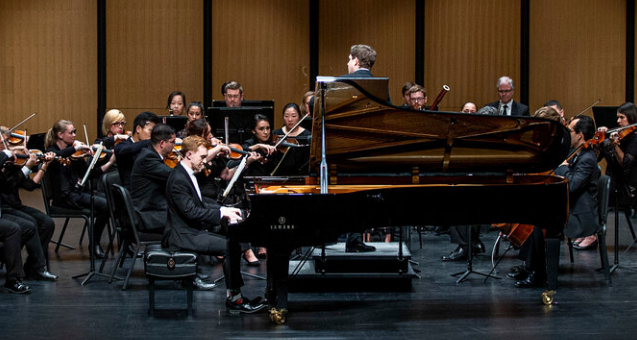 Winner of Astral Artists 2019 National Auditions, Christopher is also a top-prize winner of the Washington, Seattle, Iowa and Dallas International Piano Competitions, as well as the Serge and Olga Koussevitzky Competition for Pianists. He holds graduate degrees from Yale University and The Juilliard School, where his teachers included Hung-Kuan Chen, Peter Frankl, Jerome Lowenthal and Christopher Elton. Born in Los Angeles, California, his formal training began at the Pasadena Conservatory, where he enrolled in theory, chamber music, and for four years, composition with American composer, Andrew Norman. He continued his studies with Stewart Gordon and John Perry at the University of Southern California and the Royal Conservatory of Music in Toronto.
From a young age, Christopher developed a keen interest in collaboration and now is a sought-after chamber musician. He has appeared as a fellow in Ravinia's Steans Music Institute, in the intensive chamber music program of David Finckel and Wu Han in Aspen, at the Music Academy of the West, and in the festivals of Kneisel Hall, Sarasota and Banff. Among his collaborators have been members of the Takacs, Ysaye, St. Lawrence, Amenda, Guarneri, and Tokyo String Quartets. Christopher's work with pianists Seymour Lipkin, Joseph Kalichstein, Robert Levin, Claude Frank, Leon Fleisher and violinists Pamela Frank and Sylvia Rosenberg has left a meaningful impact on his work. Currently, Christopher is a member of New York based Ensemble Connect (formerly Ensemble ACJW), a fellowship program of Carnegie Hall, the Juilliard School and the Weill Institute, emphasizing audience engagement, teaching and performing chamber music.
More information at ChristopherGoodpasture.com